HELIX TRAILER MOUNTED ADVANCED WARNING PANELS
FEATURES
ARROWBOARD
Long lasting LED lamps
Wide wheel base for towing stability
Microprocessor based controller
"PWM" technology for extended lamp life
Automatic default 4 corner caution
13″ automotive wheels and tires
Powder coat process
Rugged polyethylene low density fenders
1 screw jack on tongue and 4 corner drop jacks
Reduced Operator damage
Easy Towing
SOLAR PANEL
Single crystal panels provide higher performance.
Panels can maintain horizontal position in operating and trailering modes.
Solar panels are mounted at the top of the sign for vandal resistance.
*Specifications subject to change without notice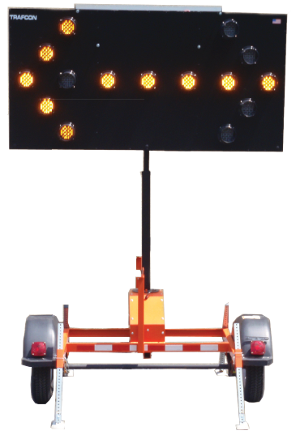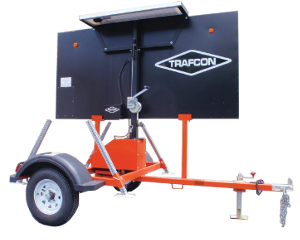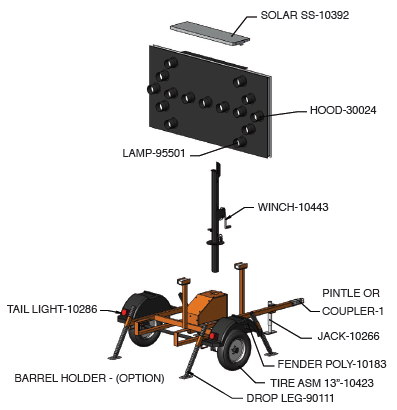 Length: 120″
Width: 83″
Tongue: 2 1/2″ x 2 1/2″ x 3/16″ tubing
Frame: 2″ x 3″ x 1/8″ tubing (sides)
3″ x 4.1 lb. structural channel (front and rear)
Fenders: Low density thermoplastic with splash shields
Safety chain: 36″ x 1/4″ proof coil plated chain with hooks
Leveling jacks: Drop jacks four corner, anti-slip feet
Lifting Mechanism: 1000 lbs.
Trailer hitch: 2″ ball or pintle ring
Axle: 1400 lb. capacity
Springs: 3 leaf, double eye
Track width: 71″
Height: 135″ operating (up) position – 94″ traveling (down) position
Weight: 642 lbs.
Finish: Highway Orange powder coat (custom colors available).
Construction: Sandwich type
Material: Aluminum
Front and back panels 48″ x 96″ x .063″ sheet
Framework – 3″ x 1″ x .125″ formed channel (welded)
Lamps: PAR 46, amber, LED
Lamp hoods: 360 degree high impact plastic
Voltage: 12V nominal (supply)
Circuitry: Solid state microprocessor
Protection: Reverse polarity / short circuit / protection automatic
Dimming: Automatic
55-watt single solar panel (optional upgrades available)
Continuous intensity feature – constant lamp intensity to cutoff
Low battery cutoff – 11V
Solid State Charge Controller
Batteries: 1 group 31-12, V 130 amp hour sealed
Voltage: 12V DC
Charging: (optional battery charger available)
Contact our Sales Team now!
To learn more about our products or place an order, call (717)-691-8007 or email [email protected]

TRAFCON Industries, Inc.
81 Texaco Road
Mechanicsburg, PA 17050
Office: (717)-691-8007
Fax: (717)-795-1938