Portable Equipment Platform
TRAFCON is a quality manufacturer of custom Portable Equipment Platforms (PEP). Our PEP models are flexible-use trailer-mounted equipment platforms available with a 30 ft (or optional 40 ft) extendable galvanized steel mast with manual or electric lift. The entire platform is customized to suit your needs. Available powered by solar, gas or propane. Applications include towers for ITS equipment deployment, radio antenna, security cameras, lighting, public address and more.
All Portable Equipment Platforms are custom built and configured to the customer's operational requirements.
All TRAFCON trailers are built with NATM Approved Compliance.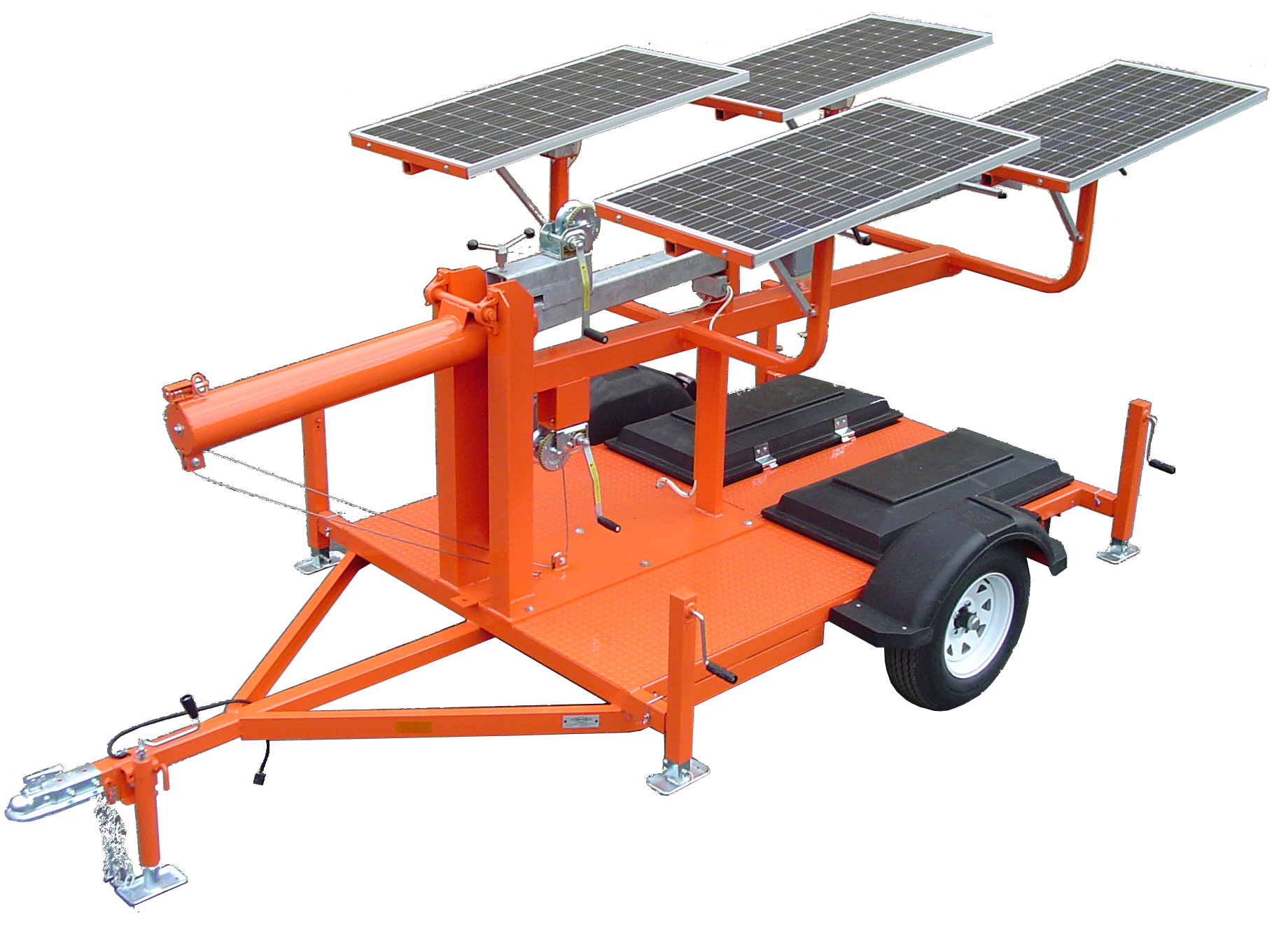 Custom Portable Equipment Trailers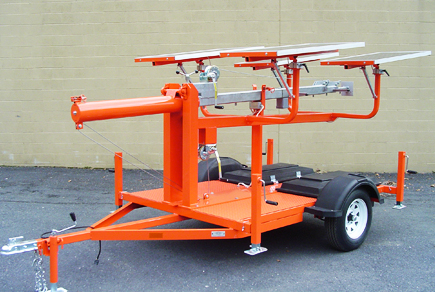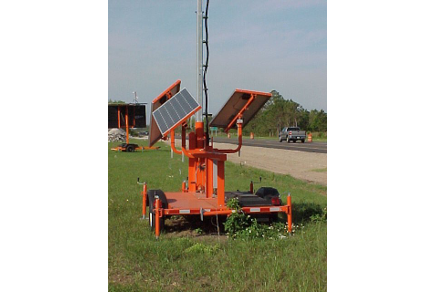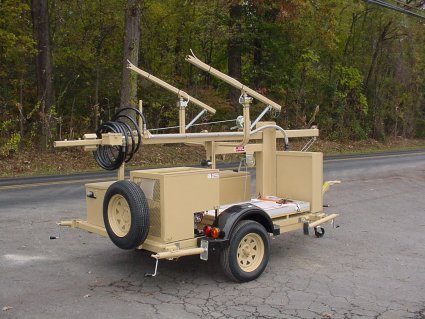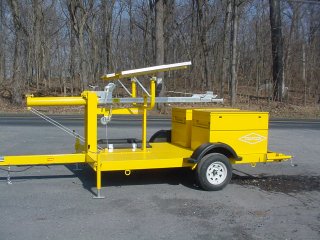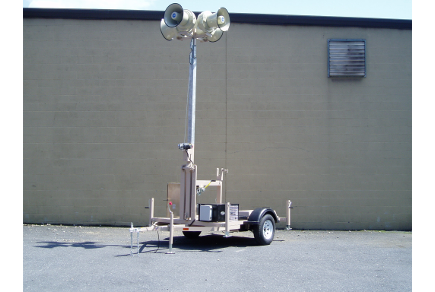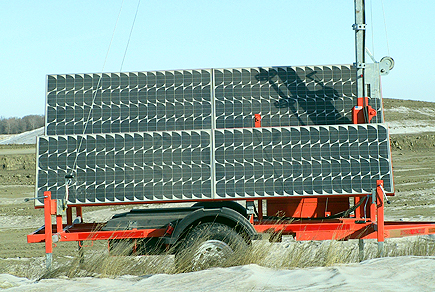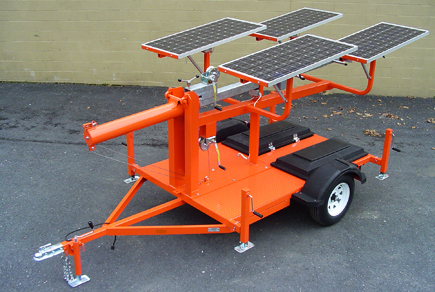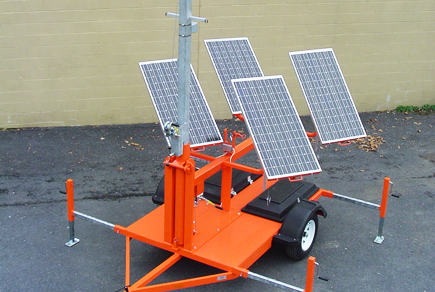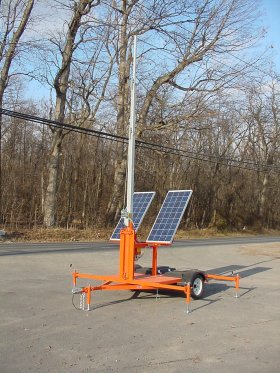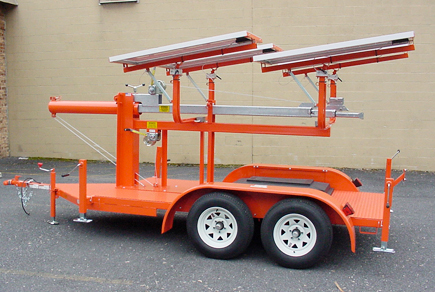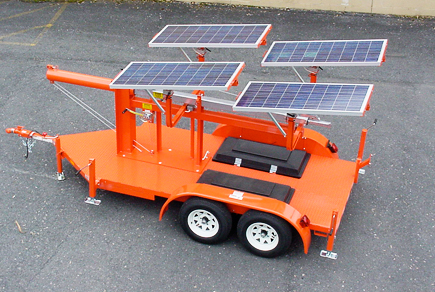 Length: 14′
Width: 7′
Tongue: A-Frame
Frame: Heavy gauge steel tubing and structural channel
Battery Enclosure: Low density thermoplastic with lockable lid(s)
Fenders: Low density thermoplastic with splash shields
Safety Chains: 24″ x 1/4″ proof coil plated chain with hooks
Outriggers: (4) Extend 30″ each from trailer frame
Leveling Jacks: (5) H.D. screw type jacks
Trailer Hitch: 2″ ball or pintle ring
Axle: 3,500 LB capacity
Springs: 4 leaf, double eye
Tires and wheels: 14"
Track Width: 71″
Weight: 1,400 LBs. to 1,800 LBs (depending on specifications)
Finish: Powder Coat Safety Orange, custom colors available
Pedestal: H.D. 6″ diameter receiver tube
Tilt: 90° tilt and lock via 1,000 LB manual winch
Rotation: 360° manual rotation
Height: 31′ standard (extensions up to 40′ available)
Material: H.D. Galvanized steel tubing
Segments: (3) at 10′ each
Raise/Lower: 1,000 LB Manual winch (1,500 LB electric hoist available)
55w – 440w solar array available
Solid State charge controller
Low voltage disconnect
Solar Panels Tilt & Rotate
Batteries: 2 to 12 GC-2 deep cycle 6v available
Voltage: 12 VDC output
AC Charge: 30 Amp to 75 Amp chargers available
Contact our Sales Team now!
To learn more about our products or place an order, call (717)-691-8007 or email [email protected]

TRAFCON Industries, Inc.
81 Texaco Road
Mechanicsburg, PA 17050
Office: (717)-691-8007
Fax: (717)-795-1938