Speed Display Trailers
TRAFCON is the quality manufacturer of Electronic Speed Display Trailers. Our Speed Sign Trailer (SST) model presents the ultimate traffic calming device combining the flexibility of a modular message sign system together with a portable, light-weight trailer.
The TRAFCON SST is available with options including radar, cellular DTMF, trailer configurations and colors to meet State DOT requirements. With so many advantages to consider, call us today for complete specifications on the SST, all backed by Trafcon's warranty and unwavering standards of quality, service and dependability.
Specifications
All TRAFCON trailers are built with NATM Approved Compliance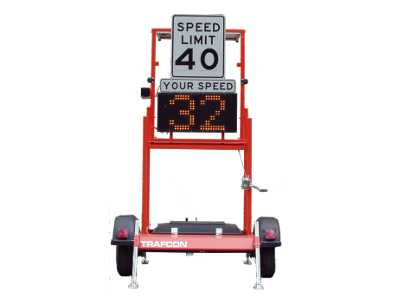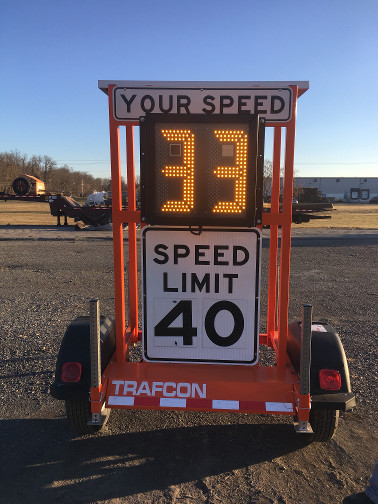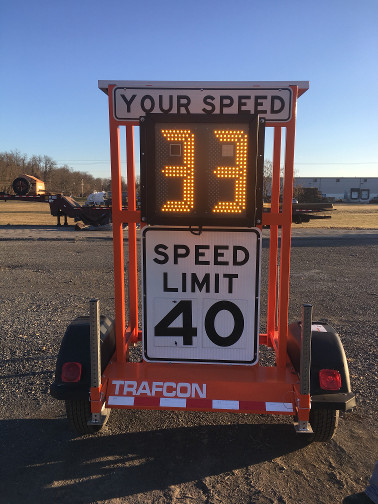 Length: 112″
Width: 96″ (Including sign Panel)
Width Across fenders: 83″
Tongue: 2.5″ x 2.5″ x 3/16″ Tubing
Frame: 2″ x 3″ x 1/8″ Tubing (Sides)
Frame: 3″ x 4.1 Lb. Structural Channel (Front & Rear)
Superstructure: 2″ x 2″ x 1/8″ Tubing
Sign Panel Support: 2″ x 2″ x 1/8″ Tubing
Battery Enclosure: Low density thermoplastic with lockable full lid
Fenders: Low Density Thermoplastic with splash shields
Safety Chains: 34″ x 1/4″ Proof Coil Plated Chain
Leveling Jack: Drop jacks four corners, 30 degree angle
Trailer Hitch: 2″ Ball or Pintle ring
Axle: 2000 Lb. Capacity
Springs: 3 Leaf Dbl Eye
Track Width: 71″
Height (Operating) Up: 132″
Height (Traveling) Down: 92″
Weight: 1150 Lbs.
Finish: Powder coat finish
• Construction – All welded
• Material – Aluminum, .063  back panel, frame 3″ x 1″ x .125 Extruded Channel (Welded)
• Lifting Mechanism – 1000 Lb. Manually Operated Winch w/ Safety Brake
• (2) Brick sealed modules
• Module size: 19"x14"
• Module face is constructed with high impact, UV protected, ABS thermoplastic polycarbonate
• Interior silk screen acrylic mask
• Automatic photocell controlled
(1) 30"x60" (R2-1), High Intensity reflective
Interchangeable digits to display designated road speed
(1) 42"x8" YOUR SPEED, High Intensity reflective
• Voltage – 12 Volt Nominal (Supply)
• Circuitry – Solid State
• Protection – Reverse Polarity, Automatic
• Dimming – Automatic
• Power Supply/Batteries
• Batteries – 2/4 or 6 Group GC-2, 6V Deep cycle, 225 Amp Hour Each
• Voltage – 12V DC
• Battery Charger, on board, (30A – 55A)
• Single crystal, high efficiency, solar panel(s) size rated (upgrades available)
• Low battery cutoff
• Solid state charge controller with charge indicator
• Solar panel mounting- continuous horizontal positing
Contact our Sales Team now!
To learn more about our products or place an order, call (717)-691-8007 or email [email protected]

TRAFCON Industries, Inc.
81 Texaco Road
Mechanicsburg, PA 17050
Office: (717)-691-8007
Fax: (717)-795-1938